Exclusive GalaONE 2023 Raffle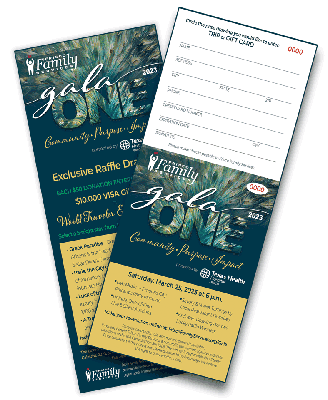 Two lucky raffle tickets will be randomly drawn and announced at the conclusion of GalaONE, Saturday, March 25, 2023, and need not be present to win. 
$10,000 VISA Gift Card
This prepaid Visa® Gift Card can be used for purchases worldwide.
World Traveler Excursion for Two
Select a 5-night stay from ONE of the 4 World-Class destinations below. The trip winner will also receive a $3,000 Visa® Gift Card for travel and excursion expenses.
TODAY, thru 5 p.m. Wed., March 22nd, purchase 2 Raffle Tickets for $80!! Only 1,500 tickets will be sold! Get yours before they're GONE!
Frisco Family Services GalaONE 2023
NOTE: Prizes are non-transferable, and no cash option is available. The winner is responsible for all taxes. Proceeds from the raffle will benefit Frisco Family Services, a nonprofit agency, tax-exempt under the IRS Code Section 501 (c)(3). Once contacted, we reserve the right to draw another ticket if the prize is not claimed within 10 business days.