Our FeedFrisco initiative is a great opportunity for your group, family or organization to make a difference in your community by collecting food and supplies, and raising the funds necessary to keep the FFS Market stocked. Every food donation helps prevent hunger in our very own community. 
There are several ways you can help prevent hunger right here, right NOW: 
Amazon, Kroger and Tom Thumb provide opportunities to FeedFrisco while you shop.
- With AmazonSmile you can give every time you shop.
- Feed your family, while helping to feed others by signing up for the Good Neighbor Grocery Programs at your neighborhood grocery stores.
OR
Set up a donation drive for food/supplies or collect funds with your Company, HOA, Church, Civic or Social Group, etc... 
- Plan A Food Drive that will lead to FeedFrisco success!
OR
Adopt-a-shelf and commit to keeping a certain item stocked. For more information, email chidi@friscocenter.org.
OR
Make a Donation: Your financial contribution will be used to purchase items that are most needed at the time your gift is made.
- I want to participate in FeedFrisco by making a gift now!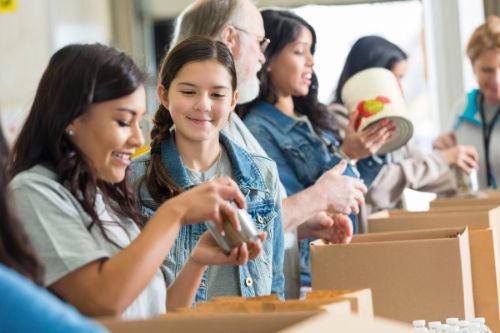 All FFS Market donations should be delivered to the FFS Market, located at 9085 Dogwood (next to Frisco Resale) which is open Mon., Tues., Thurs., Fri. from 9 a.m.-5 p.m. and Wed. from 9-6 p.m. Frisco Resale will accept non-perishable food and other needed item donations during regular store hours on Saturdays.